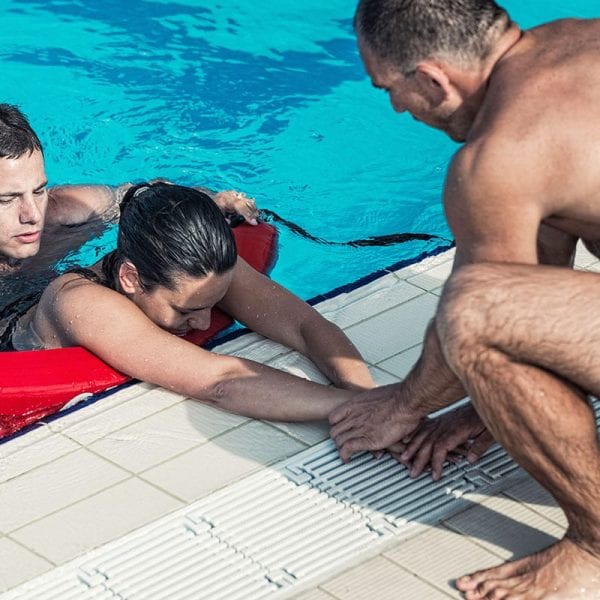 Lifeguard Certification
Lifeguard Certification and Aquatic Safety programs are available at the YMCA of Greater Cincinnati. These courses provide the necessary skills for those who work at the Y and others who are wanting to become certified.
Lifeguard Training
Ages 16 & Up | Lifeguard Training
The YMCA Lifeguard Training course is the most comprehensive program available, including certifications in CPR/AED, Basic Life Support, First Aid and Oxygen Administration. Training in equipment-based rescues for aquatic environments, accident prevention, and decision-making skills prepare participants for employment.
Participants must be 16 years old (unless otherwise stated) before the start of class. Attendance, full participation and successful completion of written tests and performance of all water skills are required. All classes have class dates/times that are mandatory for the session to obtain certification.
Upcoming Trainings: We are currently finished training for the season, at this time. Please check back often to see if we are able to add any additional classes this summer.
Pricing:
For YMCA Applicants and Employees:
YMCA Lifeguard v6: Free
American Red Cross Lifeguard: $50
For non-YMCA Applicants and Employees:
YMCA Lifeguardv6: $200
American Red Cross Lifeguard: $250
Apply Now for one of our open lifeguard position!
Participants must be able to:
Tread water for at least 2 minutes
Swim 100 yards of front crawl
Swim 50 yards each of front crawl with head up, sidestroke, breaststroke, breaststroke with head up, inverted breaststroke kick with hands on stomach
Perform a feet-first surface dive in 8 to 10 feet of water and then swim underwater for 15 feet
Perform a series of tasks given by the instructor to demonstrate listening and scanning ability as well as stamina and endurance
Items to Bring to Class:
Swimsuit and Towel (for females a one-piece suit is required)
Pen
Proof of Age
A student under the age of 18 must bring a minor permission form sign by parent and participant
Fanny Pack, Whistle, and CPR mask (these will be provided after completion of physical competency test)
Change of clothes
Open Mind
Register Now
Teen Aquatic Safety Assistant
Ages 14 & Up | Teen Aquatic Safety Assistant
The course is designed to provide participants with the knowledge and skills necessary to become a lifeguard and professional rescuer. Participants will be certified in American Safety and Health Institute's (ASHI) courses: CPR Pro (BLS) for the Professional Rescuer, Basic First Aid for the Community, and Emergency Oxygen Administration.
This course does not provide participants with lifeguard training or certification. Students must pass the physical skills test prior to the class and must be 14 years of age by the last day of the scheduled class.
Register Now