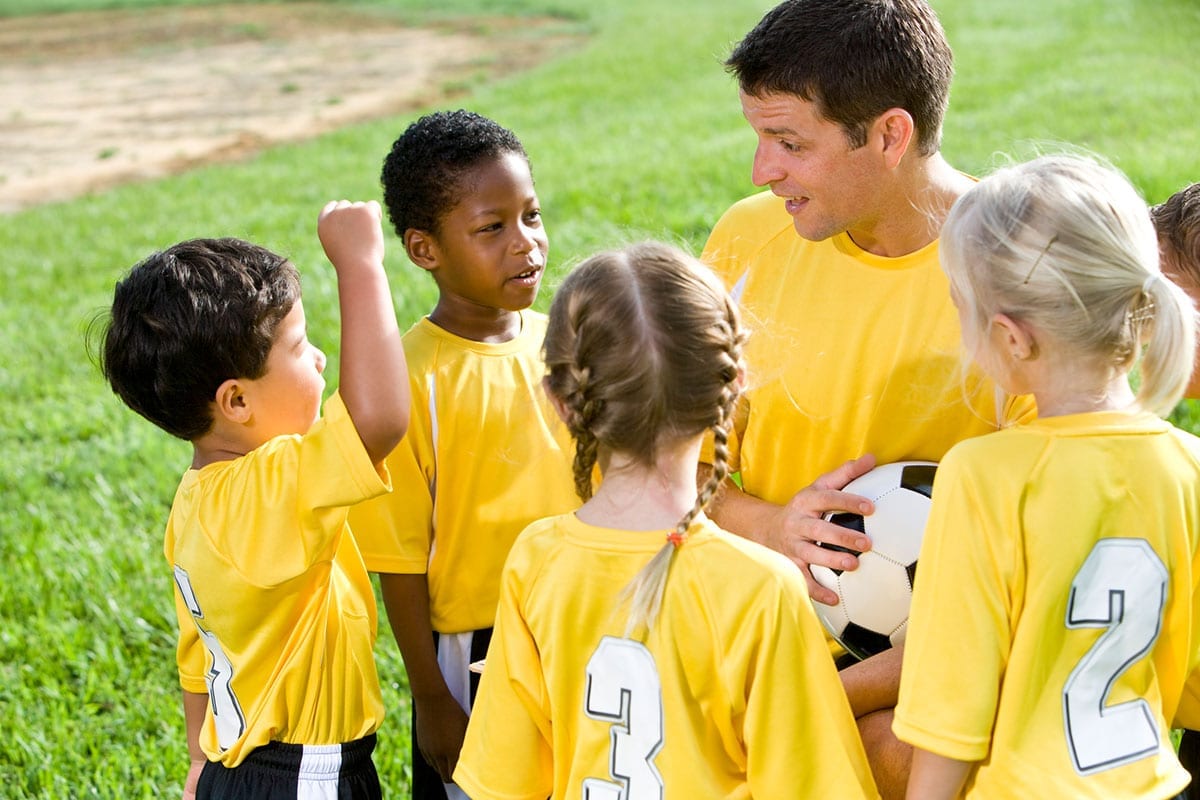 YOUTH SPORTS (3-12 YEARS OLD)
The Y's Youth Sports (Ages 3-12) help kids learn new skills, make new friends, develop essential character traits, and set individual and team goals.
AGES 3-9 | YOUTH SOCCER
Youth Soccer is an exciting sport combining team play and individual skills. The YMCA Youth Soccer league will focus on teaching beginner soccer skills and rules of the game. Designed to encourage participation and to have fun, kids will learn basic game skills such as trapping, dribbling, passing and shooting as well as goalie skills and positions of the game.
We use coaching methods where your child will learn the sport and have fun! Every child plays while making friends and learning new techniques. Players of all abilities are invited to play and participate in youth soccer.
Youth Soccer at YMCA of Greater Cincinnati is for boys and girls ages 3-9. Kids are taught the fundamentals of soccer and the YMCA character values: Caring, Honesty, Respect and Responsibility.
 Learn basketball fundamentals in a positive and fun environment. Your child will meet new friends while learning about teamwork, focusing on sportsmanship, and building skills from age 3 on a 6-foot goal all the way up to a 10-foot goal for ages 8-13. Jerseys and socks will be provided. Volunteer coaches needed for all levels.
AGES 3-5 | INTRO BASKETBALL LEAGUE
For our youngest players, we focus on introducing the game of basketball and basic ball-handling skills like passing, dribbling, and shooting. This instructional beginner league will teach your child the fundamentals of basketball and basic game concepts. Coaches and officials take an active role in teaching at this level and 6-foot goals and smaller balls are used. Practice and games are held during Saturday mornings.
AGES 6-7 | INTRO BASKETBALL LEAGUE
Children at this level continue to develop basic skills and begin to learn the rules of the game. The primary focus is on offense and ball-handling and coaches and officials emphasize learning throughout the game. One-on-one defense is introduced and 8-foot goals and 27.5-inch balls are used. Teams have one weeknight practice and one Saturday game each week.
AGES 8-9 | TRAVEL BASKETBALL LEAGUE
This co-ed instructional league will continue to develop basketball skills and teach the rules of the game. 10-foot goals and 27.5-inch balls are used. Practices will be held one day during the week and games will be held on Saturdays. As a travel league, some games will be played at other YMCA locations in our Greater Cincinnati area.
AGES 10-13 | TRAVEL BASKETBALL LEAGUE
This co-ed instructional league is for athletes between the ages of 10-13. They will continue to learn the techniques of defense and offense and rules of the game in a fun, supportive, beginner basketball environment. Practices will be held one day during the week and games will be held on Saturdays. Games will be played at various Cincinnati YMCA locations.
AGES 5-18 | GROUP, SEMI-PRIVATE AND PRIVATE BASKETBALL LESSONS
The YMCA has partnered with Foundation for Success and basketball instructor Patrick Barnett to provide group basketball lessons. These lessons are split into two age groups, ages 5-9 and ages 10+. Group basketball lessons will help students improve their fundamentals in basketball, assist with the understanding of how to play the sport the right way, and how to be a successful person overall. Private and semi-private lessons are also available for all levels to go more in-depth with training and conditioning.
Youth baseball at the YMCA provides instruction to all ages and skill levels. Each participant will receive a game jersey and hat. The progressive nature of YMCA Youth Baseball provides a fun experience for kids at any level.
AGES 3-9 | T-BALL
T-Ball teaches young players the basics of T-Ball to prepare them for Coach Pitch and Youth Baseball as they get older. Participants will learn how to catch, throw, and bat off a tee in a fun team atmosphere. YMCA youth t-ball promises no tryouts, no getting cut, and no bench warmers! Every child plays at least half of every game while making friends and learning new techniques.
AGES 7-8 | COACH PITCH
The YMCA of Greater Cincinnati offers Coach Pitch to all kids interested in developing skills and learning the rules of the game while having fun! Coach Pitch baseball leagues are designed to learn teamwork and strategy while developing catching, throwing, fielding, and hitting. Each participant will receive a game jersey and hat. The progressive nature of YMCA baseball provides a fun experience for kids at any level.
AGES 9-12 | YOUTH BASEBALL
Youth Baseball is designed to help kids improve their skill development and learn the strategy behind the game. The focus of the league is to have fun, meet new friends and play in a non-competitive environment. Each participant will receive a game jersey and hat.
AGES 4-15 | YOUTH FLAG FOOTBALL
YMCA Youth Flag Football introduces your children to the fundamentals of the game. We lead drills and games that teach the skills and positions of football as well as important values that are used on and off the field, all in a safe, friendly, and supportive environment. The YMCA of Greater Cincinnati's flag football program helps kids get a feel for football as they work on the fundamentals of throwing, catching and playing as a team in this no-tackle sport.
The league will focus on focuses on skill development, fundamentals, and a sense of team in a semi-competitive environment. Players of all abilities are invited to play. As you progress in each age group, the league becomes more competitive. Our rules have been adjusted to ensure better parity and limit the ability of a team to "run up the score".
There are many benefits for kids to start playing YMCA Youth Flag Football
Start building motor skills necessary for the game
Learning the basic rules
Offensive and defensive techniques of the game
Semi-competitive scenarios
AGES 7 & UP | JUDO
Judo is offered for those 7 and older. Judo helps develop self-discipline and confidence. It also increases coordination, stamina, flexibility, and strength.
Judo is the Japanese art of throwing and grappling. Most of what is legal in Tae Kwon Do is illegal in the sport of Judo, and most of what is legal in Judo is illegal in the world of Tae Kwon Do. They are both Olympic sports, but they could not be more different. There are NO punches and kicks in Judo. Judo uses your opponent's own body weight to throw themselves and then, by isolating body parts, chokes and joint locks may be employed to submit your opponent.
AGES 8 & UP | TAE KWON DO
Tae Kwon Do is offered for those ages 8 and older. Tae Kwon Do helps in the pursuit of self-respect and discipline, as well as building and maintaining physical fitness. Coordination, control, balance, and technique are developed.
Learn the ancient art of Korean karate at your own pace. An excellent program to enhance your level of physical fitness, gain self-confidence and improve self-discipline while learning the traditional art of self-defense. Tae Kwon Do utilizes both foot and hand techniques. Training emphasizes flexibility, stamina, balance, and coordination.
AGES 8-12 | YOUTH VOLLEYBALL
Recreational youth volleyball, for boys and girls, is meant to introduce the game of volleyball and to teach basic skill development and proper technique. Have fun while learning the rules of the game, developing new skills and learning to play as a team. The program's focus will be on overall player development. Develop your volleyball skills and learn proper technique, whether you're a competitive player or looking to play for fun, the Y's Youth Volleyball program offers a great opportunity to sharpen your agility, strength and cardio conditioning!
Participants progress from learning the rules to developing skills in the areas of underhand and overhand serving, setting, hitting, and digging. The YMCA emphasizes teaching the values of good sportsmanship, teamwork, goal setting and skill development in a fun, esteem-promoting atmosphere. Everyone plays and there are no tryouts. Practices are once a week, with at least one match played on Saturdays.
Looking for something a little more advanced than Youth Volleyball? Try our competitive volleyball league!